Vince Pedro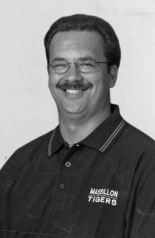 For the Massillon Tiger football program, 2003 began in turmoil when the Massillon City Schools announced an internal investigation of the program, implicating community members in potential recruiting violations. An investigation by the administration, Booster Club, and the OHSAA determined the facts surrounding the allegations and the extent of Massillon's self-imposed penalties.
Mike Stoops, soon-to-be head coach at the University of Arizona, spoke at the kickoff event for a promising year for the Tigers and the Booster Club. Summer workouts were highlighted by a magnificent showing at the West Virginia seven-on-seven camp and the subsequent Booster Club-sponsored trip to compete in the Southeastern Select Seven-on-Seven Tournament.
Expectations were high for this season, coming off back-to-back regional championships. The Tigers' season began with great excitement as All Ohio cornerback Billy Relford solidified a Tiger win in the season opener, picking off an errant Akron Buchtel pass and returning it 90 yards for a touchdown, stopping a late rally by the Griffins. After a loss to Cleveland Benedictine, the Tigers won three in a row, the third—against Mansfield – giving the Tiger program its 700th win. Unfortunately that was the Tigers' final win of the season. The remaining juggernaut of a schedule included losses to perennial powers St. Ignatius, St. Edward's (Division I runner-up), Warren Harding, and Dayton CJ (Division II state champion), as well as a 40-8 defeat at the hands of the Tigers' archrival, Canton McKinley Bulldogs.