Dale Walterhouse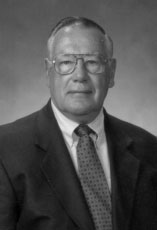 The 2002 Massillon Tiger football team gained a prestigious spot in the Ohio High School Athletic Association playoffs "Final Four" by securing a second consecutive regional championship. Under the direction of Head Coach Rick Shepas, the Tigers defeated Pickerington to wrap up the title. With a final record of 11-3, the team provided Massillon fans with a thrilling season.
Former Tiger Assistant Coach Dale Walterhouse served as the Booster Club's 69th president. He succeeded in bringing back some long-time traditions. The calliope once again resounded at all home games, at all elementary schools, and in the annual Beat McKinley Parade. Displays representing the nine past state championship coaches were updated; their pictures and records may now be seen in the upper level of the East Press Box. In the absence of fireworks, two propane cannons were mounted on top of the Scoreboard, where they are used to signal touchdowns by the Tigers. Strong efforts were also made to involve more club members in all activities.
Another large project was initiated by the Booster Club and the Board of Education to enhance the west entrance to the stadium. The late Coach Paul Brown was honored with a statue and a walkway of commemorative bricks. Tiger fans purchased many bricks, which were in place for the opening game.