Todd Schumacher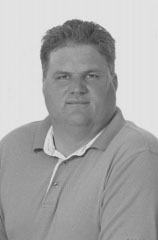 The 1999 season for the Massillon Tigers was outstanding—the team was the first undefeated regular-season team since 1982. The games best remembered by Booster Club President Todd Schumacher were the three on the road.
The first road game—against Lima—was the second game of the season. The Tigers' previous Lima match-up in 1997 ended in a sound defeat for the orange and black. Anticipation and excitement raged leading up to the rematch. The Tigers lagged going into the fourth quarter, but came back to win 33-19. The second on-the-road opponent, Fremont Ross, did not have a good record that year, yet they played the game like it was the Super Bowl. The Tigers were behind 14-0 in the first quarter, but Coach Shepas did an outstanding job to bring the team back to win 20-14.
The final road game was against Canton McKinley at Fawcett Stadium. The Tigers had not beaten Canton McKinley, the defending state champions, since 1994. Coach Shepas seemed very confident all week; by game time it was "all Tigers." Massillon beat the Bulldogs 35-7 and on the following Tuesday the town passed a much-needed school levy.
President Schumacher reported that his term "was a great year with great support from his family and Booster Club members."