Ron Pribich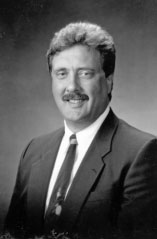 The 1998 season was the first for Coach Rick Shepas. President Ron Pribich represented the Massillon Tiger Football Booster Club on the selection committee in choosing the new coach. It was left to Ron to conduct the Booster Club orientation, where Coach Shepas was made aware of all the sections and projects of the club. A committee organized and hosted the orientation as a weekend retreat at Salt Fork State Park.
The season closed with a 4-6 record, including a loss to Canton McKinley. The underdog Tigers set the tone for an undefeated regular season the next year and victories over Canton McKinley during the next four seasons. It was interesting to watch Coach Shepas convert the Tigers from a "power run offense" to a more "open and pass offense."
President Ron also was appointed chairman of a Booster Club committee to develop a new sports complex, now known as the "Eagles 190 Sports Complex." Under Ron's leadership, the committee embarked on the five-year construction of the project which included an eight-lane running track, a soccer field, and a girls' softball field at a cost of more than $1,200,000.00.