John Hauser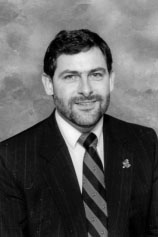 John Hauser became the 63rd president of the Massillon Tiger Football Booster Club. The year's activities included completion of acquisition of land for the proposed expanded sports complex for Washington High School and additional stadium parking facilities.
Clearing of the land for the parking lot north of the stadium was started. The Championship Room in the east press box, where pictures of the 22 state championship teams are displayed, was completed. Large banners to hang across Lincoln Way for McKinley week and playoff games were made.
On the field, the Tigers, under fifth year head coach Jack Rose, finished the season with a 9-2-0 record. They were 9-0 before losing to Canton McKinley 21-0 and then falling to Brunswick 6-0 in a playoff game played in seven inches of snow at the Rubber Bowl.
Massillon had been rated No. 1 in the state wide AP poll for six weeks during the season. The Tigers defeated Lima Senior who ended up winning the state championship by beating Cleveland St. Ignatius in the state finals. The Tigers also defeated Cincinnati Moeller for the second year in a row, and they beat Naperville Central one of the top teams in Illinois.