Clarence Rambaud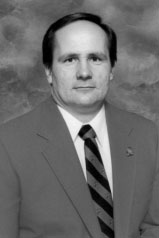 1994 was a very busy year for the Massillon Tiger Football Booster Club and president Rambaud. The membership for the year totaled 1,703. It was a year when 27 of the living 31 past presidents took part in one project or another which the club undertook during the year. Weekly game committees were re-instituted in order to create added enthusiasm each week.
A renovation of the locker rooms at Paul Brown Tiger Stadium was initiated by the club. Members of the Junior executive board did much of the demolition work thus saving the club substantial monies. When completed, a total of $147,000.00 had been invested in this project. Another 1994 Booster Club project was the purchase of a new truck for the calliope at a cost of $20,000.00. Beat McKinley banners for display on downtown utility poles during McKinley week were also purchased. This proved to be money well spent as the Tigers prevailed over the Bulldogs 42-41 in the 100th game of this much heralded high school classic. The 83 points scored in this game were the most ever scored in this storied series.
The Tigers ended the season with a 10-2-0 record while playing before 166,000 spectators. They received much national media attention on the 100th Massillon/McKinley game through a six page article in SPORTS ILLUSTRATED and filmed TV coverage by ESPN Sports.