Rollie Layfield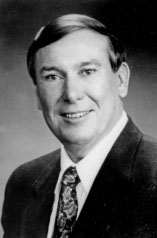 Booster Club projects during 1993 included the purchase of an inflatable tunnel through which the players run when entering the field just before the start of a game. This addition proved to be very popular with the players. The tunnel along with the new Scoreboard and message center brought the latest innovations to Paul Brown Tiger Stadium. A large Tiger, carved out of a tree trunk, was purchased by the Booster Club and it was presented to the high school to be placed on display in the lobby outside the auditorium and gymnasium. While the Tigers have played many out of state opponents, 1993 marked the first season we entertained a team from Canada, Brantford North Park, Ontario. President Layfield and the Booster Club extended Massillon hospitality to these visitors from the north.
Under Coach Rose, the Tigers posted a 9-1-0 regular season mark losing only to Canton McKinley 21-13. After disposing of Mansfield in a first round play-off game, the Tigers fell to Stow Walsh Jesuit 30-20 in the next game. It is interesting to note that in the twelve games played this year, the Tigers scored 504 points, the most ever in any season.
Long time tiger handler and former Booster Club president, Ed Annen, was honored for his twenty-four years of work with the live tigers we have had each year since the inception of the program in 1970.