Jeff Thornberry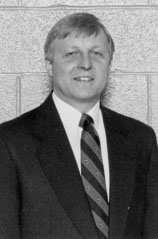 A huge Booster Club project was completed in 1992 – the installation of a new Scoreboard and message center. This Scoreboard includes not only the latest state of art computer technology, but also a large lighted portrait of Paul Brown on one comer and the classic Tiger logo …. "Obie" on the other.
Lee Owens resigned to take an assistant coaching position at Ohio State University. After sorting through many applications, the search committee narrowed the field down to a list of three candidates which they forwarded to the Board of Education. From this group, assistant Tiger coach Jack Rose was hired to take over the helm of the Tigers.
The Tigers 5-5-0 record made it a difficult year for all concerned. However, there were many highlights which helped further Tiger tradition. Playing Indianapolis North Central in the Hoosier Dome and soundly defeating Bloomington Indiana South, who was ranked nationally before coming to Tigertown, were two of these highlights.
President Thornberry has been quoted as saying, "The Booster Club presidency was something I wanted to do all of my life but I was never sure I would have that experience. It was a wonderful ride that lasted all too short of a time. You are so busy it is difficult to stop and enjoy the experience, and before you know it, your year is over.
The new Washington High School, adjacent to Paul Brown Tiger Stadium, had just opened and in 1992 the Massillon tradition continued to move forward.