Glen Weirich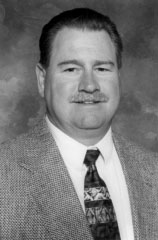 The season progressed with the Tigers winning eight decisive victories. The other two games ended in narrow losses to Cincinnati Moeller 27-13 and Akron St. Vincent-St. Marys 28-25. The Massillon victory over Canton McKinley was a powerful offensive performance with the Tigers prevailing 42-13.
Two play-off victories followed with wins over Akron Ellet 28-6 and Toledo St. John's 42-12. The Tigers were matched with Cleveland St. Ignatius in the state semifinal game. They would play one of the classic games in the history of the high school play-offs. With 4:36 left in the game, Massillon took a 13-7 lead. Then with 38 seconds remaining, St. Ignatius scored, added the extra point and escaped with a 14-13 victory. This was a game people will recall for many years with the Tigers narrowly missing a trip to the final game and a possible state championship.
The speaker at the annual football banquet was Gary Blackney, head coach at Bowling Green State University and Mid-America Conference Coach of the Year. Coach Owens, principal Al Hennon and Booster Club president Weirich presented awards and paid tribute to the 1991 Tigers. Jeff Thomberry was introduced as the 1992 Booster Club president.