Phil Glick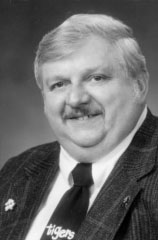 Thirty-two year old Lee Owens became the new head football coach and athletic director at Massillon Washington High School. During his seven year tenure as head coach at three high schools, he compiled a 54-19-4 record. This included a Division II state championship in 1985 when his Galion team (14-0-0) upset a strong Youngstown Cardinal Mooney team in the state play-offs. The 1988 season unveiled the "Run-n-Boot" offensive look. It was an instant success and the fans loved it. Coach Owens combined the Wing-T and Run-n-Shoot offenses to get a balance of hardnosed running and wide open passing. Coach Owens' first Tiger team was exciting and successful.
The 10-7 overtime victory over Canton McKinley was a big win for our team, our school and our city. It was Massillon's first victory over McKinley since 1983. A much greater accomplishment followed this victory as the citizens of Massillon passed a levy on the Tuesday following the game to build a new Washington High School. It was indeed a proud time for the City of Massillon and this young coach was greatly responsible for lighting the fire that made it happen.
Booster Club president Glick felt very fortunate to have been allowed to serve with such a dedicated group of people and to have been part of this great Tiger tradition.