John Catlin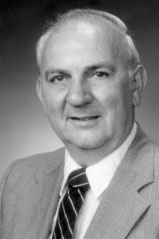 Coach John Maronto began his second year at Washington High School and John Catlin became the 53rd president of the Tiger Football booster Club.
Despite fielding a strong, well conditioned football team, the Tigers could not escape a two-point loss to Canton Glenoak and a four-point loss to Austintown Fitch. A final game defeat by Canton McKinley put the Tiger's record at 7 wins and 3 losses. However, the Tigers were able to shut out 5 opponents on their way to the seven victories.
In December, the annual banquet honoring the team was held at the K of C Hall. Walt Bronczek served as toastmaster and Coach Maronto presented the player awards. Tony Mason, one of Ohio's most successful high school coaches, was guest speaker. Coach Mason was a long time Massillon rival while coaching at Niles. President Catlin introduced Ed Jordan as next year's Booster Club president.