Bob Bushman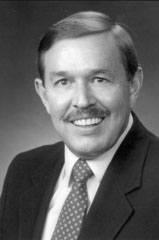 The 1984 season would be a bittersweet experience for President Bushman as well as everyone involved with the Massillon football program. The 6-4-0 record against the year's schedule was bewildering and disappointing. The first loss ever to Akron Central Hower was most devastating. The season ended with a 17-6 loss to McKinley at Tiger Stadium. The Tigers completed a record 23 passes for 244 yards in that game but their only score came with just 32 seconds remaining in the game.
The Booster Club, under President Bushman's leadership, promoted the following activities and projects during the year:
It bought the first pick-up truck to transport the Tiger calliope.
Sold Massillon Tiger helmet plaques which became the rage of Tiger Town.
A 1985 custom van was donated to the club for the president to use and it provided a neat advertisement for Tiger activities.
Preparations were made to have a Fan-O-Gram message board ready for the 1985 season.
President Bushman became involved with the Booster Club in 1974 when he began helping with sign making, painting the stadium field, placing decals on helmet and becoming a Sideliner. He would remember his term as club president as being very rewarding because of the opportunity to meet and work with so many unselfish people who volunteered their time to help the kids and Tiger program.