Gary Wilson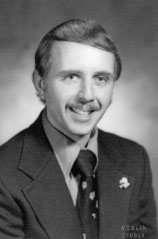 The 1982 state final game between the Massillon Tigers and Cincinnati Moeller was played in Columbus at Ohio Stadium in front of 31,412 fans. Moeller prevailed 35-12 and brought to end a very successful 12-1 season for the Tigers.
Among the 12 Tiger victories in 1982 was a 7-0 shutout against arch rival Canton McKinley. This win enabled the Tigers to take over first place in Region 2 in the final state computer rankings. This also gave Massillon the home field advantage against Sandusky whom the Tigers defeated 29 7. Berea was the next Tiger play-off victim as they fell to the Tigers 31-0 thus setting up the state championship game in Columbus.
President Wilson and the Tiger Football Booster Club pulled out all stops for the championship game. And although the orange invasion prevailed in Ohio Stadium, the Tigers had to settle for the runner up spot in the State of Ohio.