Jim Weber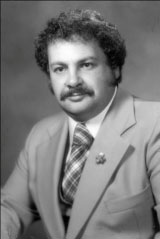 This season was filled with thrills that exceeded all expectations. In the words of Booster Club president Jim Weber, "This 1980 team was a group of over achievers, the type that has made Massillon great".
A tie with Warren Harding was the only thing keeping the Tigers from a perfect season as the McKinley game approached. Then came the hard fought but agonizing 14-7 loss to McKinley. Things did not bode well and the playoffs seemed like a very remote possibility. Unlikely developments occurred as other teams in contention for play-off spots ended their seasons with losses and suddenly Massillon gained a spot in the playoffs. The following week, before a packed house at Fawcett Stadium, Stark County fans witnessed a classic McKinleyMassillon game. This time, in one of the greatest efforts by a Massillon team, the Tigers prevailed 14-6. Coaching adjustments and a defense that would not bend enabled the Tigers to win their first state play-off game.
After defeating Willoughby South in the semifinal game, it was on to Cincinnati for the state championship game. An estimated 8,000 Massillon fans made the trip. Overmatched against Cincinnati Moeller, the title game was lost 30-7 in the rain at University of Cincinnati's Nippert Stadium. The game drew national media attention and brought down the curtain on a fantastic season.