Tom "Pokey" Converse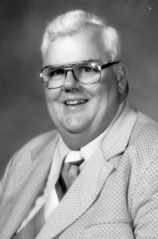 President Tom "Pokey" Converse started his year by holding a "Reduce-A-Thon". Individuals made pledges for each pound "Pokey" would lose during the year. He responded by losing 99 pounds and this earned the Booster Club over $5,000.00 from the many pledges that had been made.
Going into the Canton McKinley game, the Tigers were 9-0-0. The Booster Club wanted to do something special for the McKinley game to help spur the Tigers to victory so they ordered orange plastic bags for the Tiger fans to wave at the game. This project almost did not come off but a member of the club saved the day by making a last minute trip to New Jersey to pick up the bags. The orange bags and Tiger towels were waved continuously during the game and the roar from the Massillon fans was tremendous. By late in the third quarter, McKinley had not yet made a first down and the Tigers went on to a 24-0 victory. After the game, a McKinley fan remarked, "As soon as I saw all that orange, I knew it was all over".
The win over McKinley put the Tigers into the playoffs. However, after only giving up 24 points for the entire season, the Tigers were upset 12-0 by Parma Padua.
At the annual WHS football banquet, Coach Currence, Superintendent Lou Young and club president Converse reviewed the exciting season. Jim Weber was introduced as the 1980 club president.