John Muhlbach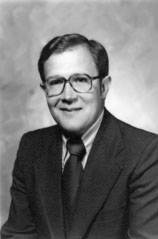 On April 9, 1976, Chuck Shuff resigned as Tiger Coach to enter private industry. Mike Currence was hired as Massillon's new head coach on May 29th. Coach Currence had been head coach at Lakewood St. Edward High School. Under Coach Currence, the Tigers would learn the run and shoot offense and a total two platoon philosophy. The Tigers were shut out in the first two games by Middletown and Gahanna Lincoln. The Tigers then went on an eight game winning streak. They ended the season with a 7-3 victory over Canton McKinley. Coach Currence's first year 8-2-0 Tigers won the All American Conference and finished 4th in their region of the computer rankings.
It is always a busy year for the Booster Club presidents when welcoming a new coach and this was the case for president Muhlbach in 1976. Extra luncheons and other activities were scheduled so as many groups and fans as possible had an opportunity to meet the new coach. The annual Washington High School football banquet was held in the school cafeteria. Superintendent of Massillon City Schools, Louis C. Young, was the keynote speaker. Club president Muhlbach introduced Dennis Gibson as the new Booster Club president.
In May 24th, a historic event occurred when the Massillon Board of Education unanimously adopted a resolution renaming Tiger Stadium as Paul Brown Tiger Stadium. This was a fitting tribute to the man who has brought so much notoriety and honor to Washington High School and the City of Massillon.