Earl O'Leary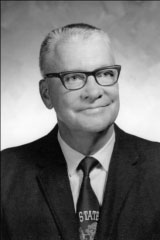 "PUZZLING" was the word most used to describe the 1975 season. Fifteen lettermen and six starters returned from the 1974 team. Puzzling was the fact that this Tiger team gave up only 6 touchdowns and 51 points but still only won 6 games. The 6-6 tie with Nordonia (4- 5-1) and a 6-3 loss to Alliance (3-6-1) were especially puzzling by the fact that this same Tiger team had shutout wins over, Niles, Steubenville and Warren. The Tigers other losses were to Upper Arlington (8-7) and Canton McKinley (21-15).
The WHS football banquet was once again held in the school cafeteria. Wilbur Arnold was the toastmaster and Clifford Wilson, WHS principal, gave the tribute to the team. During the banquet, club president O'Leary officially turned over control of the Booster Club to John Muhlbach.
It would be learned later that Coach Shuff had accepted a position in private industry and this would be his last Massillon team. Coach Shuff's record was only 12-7-1 while he led the Tigers, but he maintained team discipline, team integrity and raised academic standards. He was a gentleman always and his players were better persons for having known him.