Jim Bryan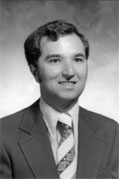 1974 found the Tiger Booster Club making the first of many capital investments it would make that were intended to improve the athletic facilities at Washington High School. The club's senior executive board signed a bank note to cover the purchase of the first Nautilus equipment which, at the time, was considered the state of art equipment for use in conditioning programs.
New Tiger coach Chuck Shuff and his band of Tigers had struggled to a 5-4-0 record in the first nine games. Canton McKinley, 9-0-0, was ranked first in the state and leading the region in computer points. They were averaging 42 points per game and had allowed only 12 total points. 21,754 fans saw the Tigers take a 14-0 half time lead only to have the Bulldogs go ahead 15-14 with 1:06 remaining in the game. The Tigers then drove from their own 35 to McKinley's 34 yard line. With 6 seconds on the clock, the Tigers scored the winning TD on a long pass. This is one of the most famous touchdowns in Massillon Tiger history. The words "Character and Courage" are appropriate when describing this Tiger team's efforts in this stunning upset.
Club President Bryan and fellow boosters got busy with their silk screen outfits on Sunday and on Monday; every player had a white T-shirt to wear bearing the message, "We Beat McKinley 20-15" inscribed in orange letters.