Junie Studer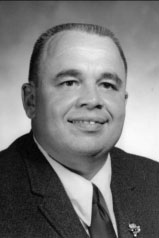 This was the first year Ohio began using playoffs to determine state champions in football. The Massillon Tigers completed a 10-0–0 season with a 12-3 victory over Canton McKinley and were scheduled to meet Cincinnati Princeton in Columbus in the semifinals of the Class A playoffs.
The Tiger Booster Club pulled out all stops as "play-off excitement" took over Tigertown. President Studer had acquired the use of an empty storeroom in the downtown area where the Booster Club members decorated hundreds of straw hats with orange bands and decals. The effect of these hats worn by Tiger fans in Ohio State's stadium was very impressive. This was just one example of the club's special play-off activities.
Coach Bob Commings made the comment, "Camaraderie and honesty are the reasons for our success in 1972". This Tiger team was the essence of Tiger pride and courage. Outweighed week after week (12 to 20 Lbs. per man), this gritty band of Tigers posted 5 shut outs and allowed but 29 points on the way to an undefeated regular season that included 5 state ranked opponents. It took a 45 yard field goal to stop their march to a state championship. Nevertheless, they still earned a special place in Tiger history and the hearts of Massillon fans for their unbelievable "Tenacity and Courage".