Don McFarren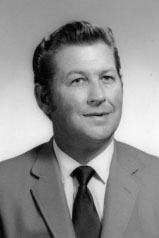 They didn't win a state championship and the All American Conference title was not to be theirs but to any Tiger fan, these 1971 Tigers were still the class of the state. If not for one point losses to Niles (7-6) and state champion Warren (8-7), the Tigers could have been in the throne room for the second consecutive year. They ended the season by mauling McKinley 29-6 before 22,000 spectators at Canton's Fawcett Stadium.
Because of their tough schedule, the 1971 Tigers finished first in Region 3 of the first computerized ratings in Ohio. Computer playoffs had been approved by the Board of Control of the Ohio High School Athletic Association. However, a referendum vote by the high school principals forced the OHSAA to cancel the proposed playoffs.
President McFarren and his officers had a very active year. They arranged several special mid-season rallies and they organized one of the larger McKinley parades and bonfire rallies ever held. The annual WHS football banquet once again was short, to the point and very entertaining. Dr. Robert Immel served as banquet emcee. President McFarren presented Coach Commings with a special trophy symbolic of the Tigers' top rating in Region 3, Class AAA in the first experimental computer ratings. He also introduced Paul "Junie" Studer as the club's 1972 president.