Duane Knight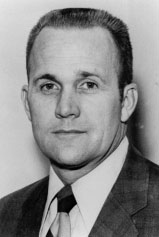 The season started on a sour note when Mentor humbled the Tigers 19-0. It was the worst opening game loss in WHS history. The Tigers would suffer a 23-13 loss to Warren Harding and take a terrible thumping at the hands of Canton McKinley 26-6 in the season finale at Tiger Stadium. During the McKinley half time program, Booster president Knight presented a watch to Carl "Ducky" Schroeder for his 21 years as a Tiger assistant coach and the Washington High School Class of 1969 presented the school with a new Obie tiger skin.
The highlight of the season was the 16-8 upset win at Niles. Niles had not lost at home since 1959 – a stretch of 63 straight games. 11 lettermen had returned from the 1968 squad. While the Tigers may have shown a lacked of consistency during the season, they certainly did not display a lack of Tiger pride or desire.
The WHS athletic department and Tiger Booster Club once again sponsored the annual football banquet at the school cafeteria. Approximately 500 people attended to pay tribute to this Tiger team.