Jack Hill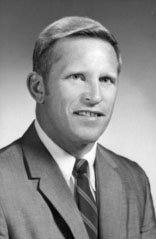 "OPERATION COMEBACK" was a success in the minds of Tiger fans. Their Tigers had bounced back from a 4-5-1 season to a 9-1-0 record while defeating Canton McKinley and coming within one play of a state championship.
It was a year of cliffhangers. Victories were not easy. Alliance 20-14, Niles 14-6, Altoona 12-7, McKinley 20-15 and finally that one play mentioned previously, the 4th and 7 play on which Upper Arlington scored in the final minutes to defeat the Tigers 7-6. The Tigers ended the season ranked 2nd to Upper Arlington in the final AP poll.
President Hill and the club organized a great time for fans that attended the game played in Altoona, Pa. This included a chartered train and many other activities before and after the game. It all paid off with a Tiger victory that was followed by much celebration on a very foggy night.
Bill Willis, Ohio Youth Commissioner, former All American at Ohio State and All Pro offensive lineman for the Cleveland Browns, was principal speaker at the annual WHS football banquet. President Hill introduced Duane Knight as the club's new president.