John Reusser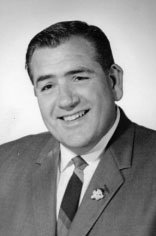 The 1965 season was sort of a repetition of the 1964 championship journey. En route to a second straight state title, the Tigers had heated battles with AAC teams – Niles 22-8; Steubenville 20-14; and Warren 16-12. These teams were all ranked in the top ten of the weekly state poll at the time they were played.
Not to be overlooked were the tough wins over Altoona, Pa 14-0 and Cleveland Benedictine 29 -12. Benedictine finished the season 9-1-0 and were ranked 7th in the final AP poll.
Before a state championship could be celebrated, however, another titanic battle with arch rival Canton McKinley took place. As they did in 1964, the Bulldogs jumped to a 14-0 half time lead. But once again, the Tigers came storming back with 18 unanswered points. The final score of 18-14 gave Massillon its 9th straight win over McKinley and its second consecutive state title.
Coach Bruce arrived in town with a 62-12-3 record and a 22 game unbeaten streak. After two years in Massillon, he now had a record of 82-2-3, a 42 game unbeaten streak and Massillon had two more state titles. It's no wonder the title, "Earle of Massillon" was used by some Tiger fans.
President Reusser and his officers had a rousing year. The Booster Club's Altoona, Pa. trip will always be remembered by the boosters and fans who were able to take part.