Chuck Gumpp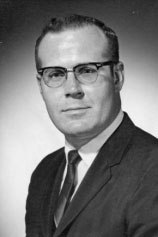 The Massillon Tiger Football Booster Club was organized in 1934 and would be celebrating its 30th anniversary in September. However, president Gumpp celebrated early by welcoming a new Tiger head coach, Earl Bruce, at the annual "spring stag". Coach Bruce was hired when Leo Strang left to become head coach at Kent State University.
The 1964 Tigers, under Coach Bruce's dynamic leadership, returned the state championship to Massillon. It all started the second game of the season in the Akron Rubber Bowl when the Tigers broke Niles 48 game win streak with a 14-8 victory before 30,128 fans.
The clincher was a sensational 20-14 last minute victory over Canton McKinley. Trailing 14-0, with 11 minutes left in the game, the Tigers scored 20 points to win one of the most remarkable victories in Massillon history. Both teams had entered the game 9-0. Football was telecast live from Tiger Stadium for the first time as WEWS-TV, Channel 5, carried the entire game.
700 fans jammed the WHS cafeteria for the football banquet to thank the 1964 Tiger team for a great season. President Gumpp introduced John Reusser as the club's 1965 president. Ray Elliot, assistant AD and former head coach of the University of Illinois, was principal speaker.