Richard Reichel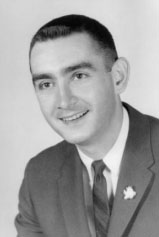 The highlight of the 1960 season was Coach Strang's ability to schedule powerful Springfield High who had finished No. 2 in the 1959 state poll and No. 3?in 1958. Coach Strang's offer to the Springfield school officials was too tempting for them to not accept. Even though Springfield went to two high schools in 1960, all the football players from the previous year's team were permitted to remain at the present high school which was renamed Springfield South. The game was played the week before the Canton McKinley game and was Springfield's final game of the season. Massillon won the game 62-32. That win, coupled with Tiger victories over other state ranked teams – Cleveland Benedictine 36-0; Alliance 14-10; Cincinnati Bacon 8-0; and a resounding 42-0 win over Canton McKinley, gave Massillon its 18th state championship.
President Reichel became the 17th Booster Club president to preside over a Massillon state championship team. The club had a special challenge getting the fans motivated for the Canton McKinley game because of the special emphasis that had been put on the previous week's game with Springfield. However, the club responded by having a great week of activities that ended with Cleveland Browns defensive end, and a 1954 Tiger, Jim Houston speaking at the big bon fire rally on Friday night.
Harry Stuhldreher, an ex-Massillon Tiger from the 1920 team and a member of Notre Dame's "Four Horsemen", was the principal speaker for the WHS football banquet attended by 600 people in the school cafeteria. Dr. Robert Immel served as master of ceremonies.