Don Ahlstrom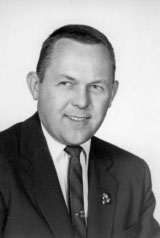 If you were a Massillon Tiger fan in the spring of 1958, you had a real football bargain if you attended the club's "spring stag" at the American Legion. Booster Club president Don Ahlstrom and his committee provided a triple attraction: (1) the introduction of new Tiger head coach Leo Strang; (2) the kickoff of the Booster Club's 25th annual membership drive; and (3) the return of Paul Brown to help celebrate the 25th year of the club he helped originate in 1934. Over 500 fans attended this event.
Coach Strang was hired when coach Tressel left to become head coach and assistant athletic director at Baldwin Wallace College. When Coach Strang addressed those attending the "spring stag", he told about his flare for color (some fans believe the uniforms his Tiger teams wore were the classiest ever), of his belief in psychological football, of making it a privilege for a player to dress for varsity games, and his need for quick linemen to run his Wing-T offense. He guided his first Tiger team to an 8-1-1 record and ended 4th in the state poll. They tied eventual state champion Alliance 8-8. The defeat was a very strange 6-0 loss to Warren.
550 people attended the annual WHS football banquet, cosponsored by the WHS Athletic Department and the Tiger Booster Club, at the American Legion. The principal speaker was Dr. Kenneth McFarland, consultant and lecturer from General Motors. Dr. Robert Immel served as toastmaster.