Jim Bucher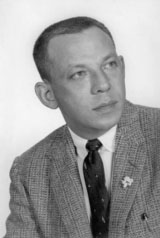 The seniors on the 1957 Tiger team set two goals for the season – defeating Canton McKinley and winning a state championship – neither of which they had ever experienced. They achieved one, a 26- 6 victory over McKinley and they came within 8 poll points of winning the state title. Their only loss was to the eventual state champion Cleveland Benedictine 13-7.
Prior to the season, Coach Tressel asked the Booster Club executive board to form a group to provide support and encouragement for the Tiger players. As a result, the Tiger Sideliners were organized with Dr. A. B. Conklin serving as the group's first president. Each Thursday after practice, the Sideliners took team members out to eat and to a movie before taking them to their homes.
In 1957, the Wheeling and Lake Erie district of the Nickel Plate Railroad presented school officials with a 50 year old bronze train engine bell as a rotating trophy for the annual Massillon/McKinley gird classic. It was a great reward for the 1957 Tigers to have the bell toll 'first' for Washington High and the City of Massillon after their victory over the Bulldogs.
The annual banquet, again cosponsored by the Board of Education and Tiger Booster Club, was held at the American Legion. The principal speaker was Ray Elliot, head coach at the University of Illinois. President Bucher arranged a booster "after glow" for coaches, school officials, newsmen and invited guests at the Shady Hollow Country Club.