Robert Immel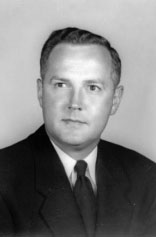 On March 12th, several hundred fans welcomed new Tiger head coach Lee Tressel at a get acquainted meeting in the WHS auditorium sponsored by the Tiger Booster Club. Coach Tressel and his wife were introduced to the crowd by club president Immel. Before being named to succeed Tom Harp who left to become backfield coach at the U. S. Military Academy, Coach Tressel had guided the Mentor High School team to 34 consecutive victories.
Coach Tressel faced the task of building a completely new Tiger team for the 1956 season. Every member of last year's offensive and defensive units had graduated. Only 6 lettermen were returning. Spring practice would be very crucial to the coaching staff in putting together a team to meet the challenge of the 1956 schedule. 1956 WOULD BE THE LAST YEAR FOR SPRING PRACTICE IN OHIO.
The Tigers won two of the four games played against teams ranked in the top ten of the state poll. They overcame many obstacles to finish 8th in the final poll with an 8-2-0 record. Their losses were to No. 6 ranked Mansfield and state champion Canton McKinley.
The annual WHS football banquet was held at the American Legion where 550 fans turned out to honor the Tigers. President Immel, who served as toastmaster for the banquet, was very impressed with the total dedication Coach Tressel and his wife, Eloise, gave to the Massillon program. Their "dual" involvement and sincere love for our youth became a lasting memory for Dr. Immel from his year as club president.