Ed Bordner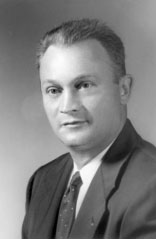 President Ed Bordner started the year with an energetic spring membership drive. Twelve team captains were chosen to enlist workers to sell Booster Club memberships from April 11th to the spring exhibition game on April 22nd. The spring membership drive was followed in the fall by a mail campaign directed at those prospective members who had not been contacted in the spring.
Coach Harp returned 13 lettermen, including one starter, from the 1954 Tiger team. Once again, a grueling schedule confronted the Tigers but Coach Harp led the Tigers into the 10th game with an 8-0-1 record. Canton McKinley, 9-0-0, was ranked No. 1 in the state and they had averaged 400 yards a game in their first 9 games. Even though the Tigers held the Bulldogs to 69 total yards, they won the game 13-7 and the state championship. This was McKinley's first win over the Tigers since 1947.
At the annual banquet, the team was toasted and honored before a capacity crowd at the American Legion. I. W. Snyder, WHS principal was master of ceremonies. President Bordner recognized the team on behalf of the Booster Club. He also introduced Dr. Robert M. Immel as the 1956 Booster Club president.