Bob Pietzcker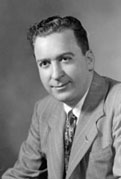 The Tiger Booster Club entertained more than 100 high school and college coaches at its annual "smoker" following the varsity/senior spring game. Nearly every Ohio College, as well as several from out of state, was represented at this affair. Coach Brown, who had initiated the spring game 13 years before, made an appearance. It was a great way to end spring practice and start a new Booster Club year. President Pietzcker disclosed plans for an expanded Booster Club membership campaign which would make memberships available beyond the weekly club meetings. The Club added a fall "meet the team" night prior to the season opener as part of its activities.
The Tiger victory over McKinley by a 33-0 score produced many accomplishments for the Tigers:
a) 3rd consecutive state championship;
b) Tied the McKinley series at 25-25-5;
c) Coach Mather's first untied and undefeated season; and
d) first time 3 Tiger backs rushed for over 100 yards in a McKinley game.
Prior to the game, the first Homecoming Queen in Washington High School history was crowned by "Obie".
The 1950 Booster Club banquet had to be postponed for one week due to the famous Thanksgiving blizzard which dropped 24 inches of snow in 24 hours. When the banquet was finally held, 1,000 fans showed up at WHS to honor the eleventh Tiger state championship team. Sid Gillman, coach at the University of Cincinnati, was principal speaker. This would be the last football banquet totally sponsored by the Tiger Booster Club.