Robert Willison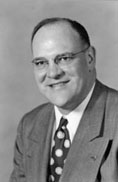 March 31, 1948 it was announced that Coach Houghton was to become head coach at Akron University. This came two days into spring practice, spring football was cancelled by the Massillon school officials (permission by OHSAA), to be able start early fall (Aug 20) practice with the new Tiger coach present.
The Booster club decided to go on with their 3rd annual spring meeting. President Willison's show included the movie "Meet the Browns" (shown by Chet Adanls the Brown's tackle) and Superintendent of Schools L.J. Smith who discussed the progress of selecting a new Tiger coach. This probably was the origin of the Boosters "Spring Stag".
Chuck Mather became the new Tiger Head Coach and with him, the renewal of Tiger football dominance. Mather's dynamic style and leadership, along with 15 undersized but courageous senior players and a senior manager (who players credit with saving team harmony), gave Massillon its first State Championship in 5 years. Coach Mather's arrival and these 16 seniors saved the Tiger Tradition.
The annual Booster Banquet drew a record SRO crowd, as 1,100 fans, coaches, newspaper, and radio men turned out to honor this Tiger Team. Paul Brown was the principal speaker. Coach Mather's emotional remark to the team about the McKinley win, "Believe me, boys, I'll never forget that day as long as I live", was certainly the feeling of thousands of Tiger fans.