Herb Croxton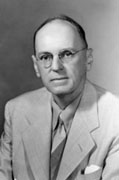 Ohio voted to resume spring football practice in 1946 after a two year ban. Spring practice was held for three weeks in April and ended with a game between the seniors from last year's team and the 1946 varsity. Spring football was never compulsory and those schools that did not participate were permitted to start fall practice earlier than those schools who held spring practice.
In 1946, Coach Bud Houghton returned from military service to resume leadership of the Tiger football program. The Tigers had a difficult schedule and ended the season 6-2-2. The victory over Dayton Chaminade, 35-12, and the 6-6 tie with Canton McKinley were great team efforts. Dayton Chaminade, coached by Gerry Faust, Sr., came to town with a 6-0 record and a 16 game win streak. Canton McKinley had not lost since its season opener and was a heavy favorite.
President Croxton inaugurated a spring Booster Club meeting that was held on the Monday prior to the final week of spring practice. The club also sponsored a "smoker" (reception) for coaches and sports writers following the game. He also introduced a "Mom's Night" during the fall booster meetings. The football year ended with 1,000 boosters and fans once again attending the annual Booster Club banquet to honor their Tigers.