1945 Frank Ceckler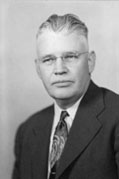 (Augie) Morningstar was appointed "interim" Tiger head coach replacing Elwood Kammer who had resigned in January. Both Morningstar and Kammer were given the interim status as head coach until such time as Coach Houghton returned from military service.
The first undefeated season in 2 years was completed by the 1945 Tigers under Morningstar's direction. Only five victories were recorded, however, as the other five games ended in ties. The record of 5-0-5 constituted the strangest, and most unique season in the history of WHS football. Four of the ties were against teams rated in among Ohio's top ten. These four teams had a winning percentage of 0.969 and a combined record of 31-1-8.
Ceckler's year as Booster Club president was filled with many historic world and national events. The death of President Roosevelt, the dropping of the first atomic bomb, and the end of World War II were most profound. He also presided over one of the most unique and exciting seasons in Tiger history. The Tiger vs. Cathedral Latin game drew a record 51,000 fans at Cleveland Municipal Stadium. Total attendance for the season was a record 187,500. The annual Booster Club banquet closed this most unusual year.
Obviously, the most welcome news of the year was the ending of World War II and the return home of our young men and women from military service. Sadly, some did not return and their ultimate sacrifice should never be forgotten.