Bob Smith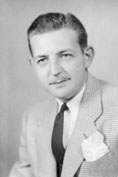 Elwood "Kam" Kammer, a 1941 assistant Tiger football coach, was chosen "interim" Massillon head coach to replace Bud Houghton who was called to active duty in the U S Navy, Coach Kammer became the third player from the 1925 Tigers to become head coach at Washington High, Coaches Brown and Houghton were also on the 1925 Tiger team.
The Tigers opened the 1942 season with seven straight Ohio Scholastic Football Championships behind them, The 1942 Tigers also had the job of carrying on a record of 43 straight games without a defeat With a new head coach and only nine seniors, this Tiger team had to rely on hard work and that "carry on for Massillon spirit" to make this a successful season.
They ran the undefeated streak to 52 games before falling to McKinley in the final game of the season, In spite of the loss, this young group of Tigers had a successful season, President Smith received many accolades from the Tiger's out of state opponents for the Booster Club's hospitality. The Lincoln, Nebraska coaches were especially impressed with the reception accorded their team by the Tiger Booster Club. President Smith was the Tiger Stadium field announcer for many years.
A crowd of nearly 1,000 people turned out for the Booster Club's annual banquet program in the school auditorium honoring this young Tiger Team, Ohio State University coach, Paul Brown, returned home to be the main speaker at the banquet.