Charles Hess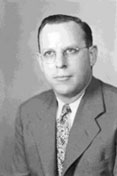 The Booster Club, now in its seventh year, had become one of the largest and most popular organizations in the city. President Hess continued the club's activities of promoting Tiger football and increasing fan support. A 14 car special train to Erie, Pa, was a great example of Booster Club support. Over 500 fans and the Tiger Swing Band were on board. President Hess organized the first Booster Club sponsored "McKinley Parade" which included 1,000 torch lights.
Those who attended the annual Booster Club banquet to honor the 1940 Tigers did not realize that this would be Coach Paul Brown's final year as the Tiger head Coach Brown, climaxed a brilliant coaching career at Washington High School by bringing the sixth consecutive state championship to Massillon. He called the 1940 Tigers his greatest team. With machine like precision, this group of Tigers steamed rolled past ten opponents who had a combined record of 67-23-3. So potent was this team that they allowed but six points all season. The seniors never lost a game in their three years at WHS.
President Hess was the last to serve under Coach Brown, but all Tiger Booster Club presidents that followed him know that "PB" is the reason for their office and the "Massillon Football Tradition".