Karl Young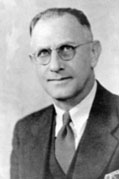 The club elected its originator, Karl Young, as its president in 1938. Attendance at meetings had increased so much that it became necessary to hold the meetings in the high school auditorium instead of the study hall room.
One of the most popular booster activities of the year was the special train to Sharon Pennsylvania. This game was one of the great games in Tiger history. Sharon was 3-0-0 and had gone undefeated in 1937. Their coach, Dave Stewart, was Paul Brown's coach at Washington High School in 1925. The Tigers prevailed 34-20 before a capacity crowd. The fare for the special train was $2.10 for the 165 mile round trip.
On December 6th the front page headlines of THE EVENING INDEPENDENT read, "Park Site Acquired for New Stadium". City Council voted unanimously to exchange 35 acres of park land for the old Massillon Field site owned by the Board of Education. The 35 acres was to become the site of Tiger Stadium in 1939.
Over 600 boosters and guests jammed the Swiss Club to pay tribute to the 10-0-0 Tiger state championship team. Dr. Lou Little, Columbia University head coach and former member of the professional Massillon Tigers, was the main speaker. WHS junior, Paul Paulson was introduced to the crowd as the first "OBIE" mascot to wear the tiger skin suit.