W. E. N. Hemperly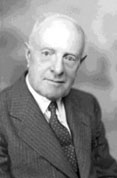 W. E. N. Hemperly initiated two very popular activities during his presidency. He developed a club bulletin which was circulated to club members at intervals during the year He also appointed a club transportation committee for out of town games. Booster caravans and special trains had become very popular with Tiger fans.
On October 29, 1937, New Castle, Pa. defeated the Tigers at Massillon Field, 7-0, ending the Tiger undefeated streak at 26 games Disappointing as this loss was, the Tigers bounced back to win their next three games including a 19-6 victory over Canton McKinley. These wins started Massillon on a new undefeated streak which would extend to the 10th game of the 1942 season.
The Booster banquet now had become so large that it was transferred to the Swiss Club where the meal was served in two shifts making it possible to accommodate the 700 boosters and quests that came to honor the state champions. The guest speaker was Bo McMillin, head coach at Indiana University.